If there is one game that has taken the SWAT club by storm, it is Blood Bowl. The game has been around for yonks and frankly I've never really given it more than a passing glance. I've tried the Computer Game version, watched people play it and still it hasn't floated my boat.
However after trying the Blood Bowl Team Manager game, as well as seeing the enthusiasm of the guys at the club for it, I decided to give it a try. I have to admit it is better than I gave it credit for!
Anyway, I have decided to run with a Wood Elf team for the upcoming "Season 2" of the SWAT Blood Bowl League. I doubt I'll be able to match the more experienced players, but as long as I and my opponents have fun, that's all that really matters. The best thing about Blood Bowl? Not having to carry a suitcase around like you have to do with Warhammer 40k!
I have ordered a team to use and this is it: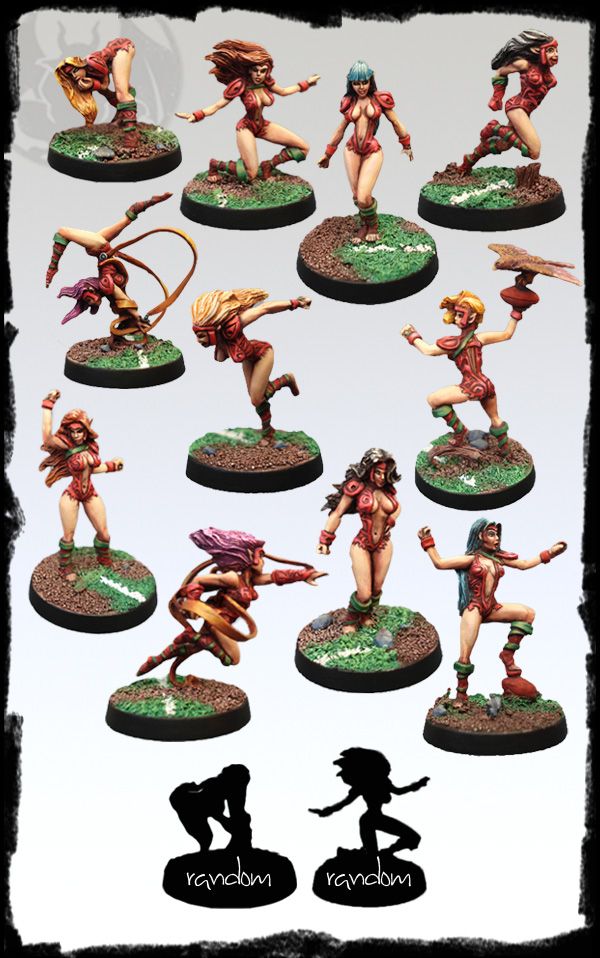 Hopefully my painting can do them justice! No guarantees though, but I have set them up with a theme and true to Blood Bowl fashion, it is tongue-in-cheek!

Turning up to the wrong sporting event, the ladies of Athel Loren decide to make the most of things.......
The "ATHEL LOREN LONGBOWS" LADIES EXTREME GYMNASTICS SQUAD (A.L.L L.E.G.S)
1. Ara Besque - Lineswoman 70k
2. Dinah Mique - Lineswoman 70k
3. Gainer Fruntuck - Lineswoman 70k
4. Hori Zontalbaars - Lineswoman 70k
5. Pomme L'hors - Lineswoman 70k
6. Uneve Enbars - Lineswoman 70k
7. Piru Etturn - Lineswoman 70k
8. Hai Baars - Lineswoman 70k
9. Fleur Ek'zersise - Catcher 90k
10. Summer Salt - Wardancer 120k
11. Su Kahara - Wardancer 120k
2 rerolls (100k)
10k spare